DJ Mic Smith announces 2022 U.K. tour
Mic Smith, the iconic Ghanaian disc jockey, has announced a 2022 tour, his first headlining tour in the United Kingdom since his last successful inter-state tour in the United States in 2021.
Making a series of stops in major markets across the U.K. and Europe in March, the "Shut Down King" will also combine his solo headline shows with main stage performances at some of the UK's finest heavy music festivals.
More details loading…!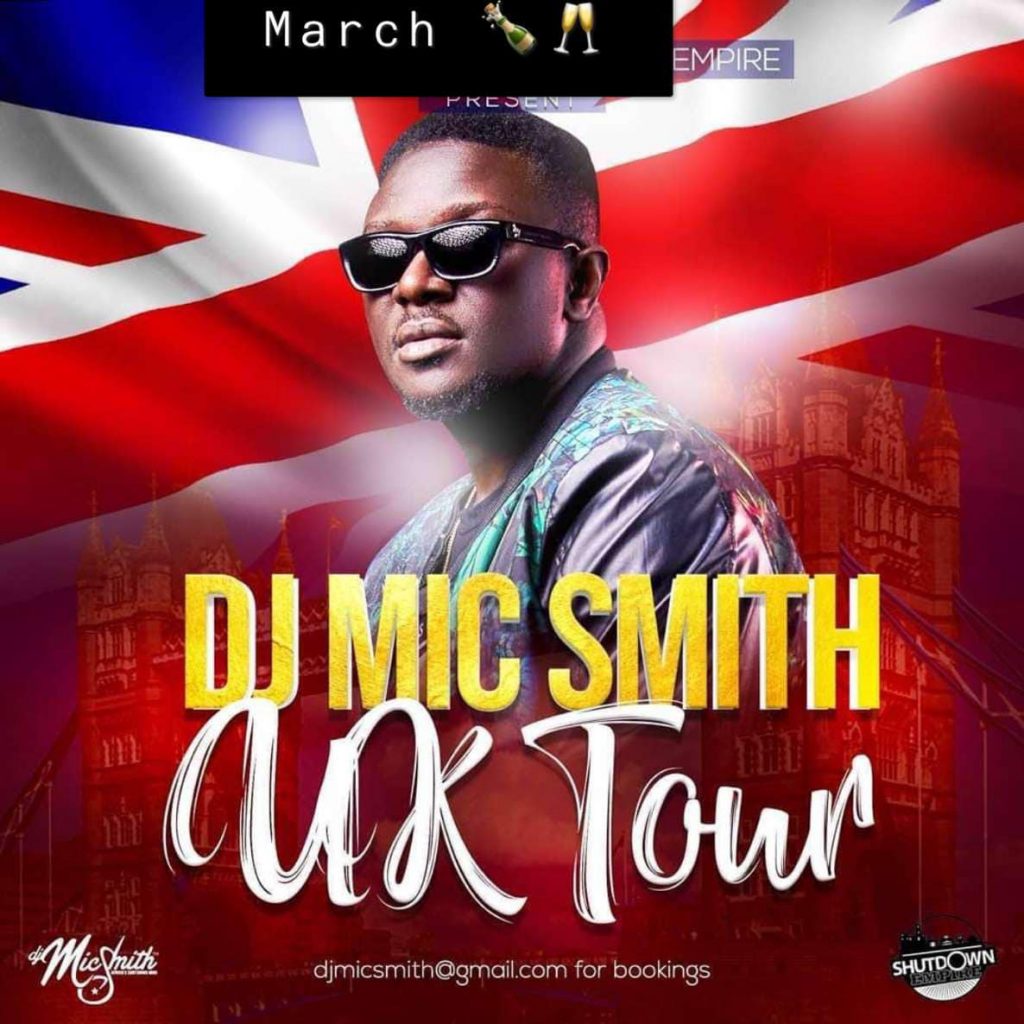 In 2021, he embarked on his "the Micnanimous" US tour. The tour saw him perform in almost all the big cities in the US. He shutdown the following states: Alexandria, Washington, Maryland, Atlanta, Rode Island, Ohio and New Jersey. Mic Smith also toured Miami, Afrocode Night Club on 29th of July 2021.
DJ Mic Smith is without a doubt one of the most prominent and talented DJs in Ghana right now. He has been able to establish himself as a legitimate professional with tremendous talent that can blow any crowd away after more than a half-decade with this expertise under his belt.
Over the years, he has been the major source of entertainment at the club, and his skill behind the decks has earned him the moniker "The Shutdown King." DJ Mic Smith has been spinning at the club on a regular basis, as well as as a guest DJ at a variety of other venues in Accra and beyond.
DJ Mic Smith's expanding reputation has brought him numerous large events, ranging from large concerts to private gatherings around the country. In 2014, he made one of the most significant moves in his career when he was named the event DJ for Ghana's most prestigious music awards ceremony, the Vodafone Ghana Music Awards. DJ Mic Smith has also been on national television, most recently on the TV3 network channel's New Day morning show. His art has even spread beyond Ghana's borders, earning him worldwide acclaim in nations such as Kenya, South Africa, and the United Kingdom.
Mic is also a well-known and talented mixtape DJ, artist, and producer, with recent releases including his 2015 pre-birthday release 'Rushing' featuring Kwaw Kese, 'We Just Landed' featuring E.L, C-real, Stargo, Gemini, and Joey B, 'I no Get Time' featuring Manifest, American Passport refix ft E.L, and one of his earliest mixtape releases called the 'Da reminder'