Music News
Burna Boy makes history with sold-out London Stadium gig
Burna Boy made history over the weekend when he became the first African artist to headline a stadium show in the UK.
A sold-out crowd of 60,000 fans screamed the Grammy award-winner's Afrobeats lyrics back to him at the London Stadium.
And he didn't disappoint with his two-hour set – bringing out famous friends like Stormzy and Dave on a giant merry-go-round to perform alongside him.
Afrobeats – a mix of African and Western influences – has seen a massive rise in popularity over recent years thanks to the likes of Burna Boy and Wizkid.
The pair, two of Nigeria's biggest stars, have headlined some of the world's major music festivals but it was Burna Boy who took it to another level on Saturday night.
Fans danced in the aisles, creating a carnival like atmosphere as he bounced around the stage in a bright orange jumpsuit.
One of them was Kojo Amankwah, 27, who says he travelled 3,000 miles from Ghana to be at the historic gig.
"I loved seeing how multi-racial the crowd was, united by the power of Burna Boy's music. It was unlike anything I've ever seen," he tells Newsbeat.
"It's something the greatest performers of all time like Beyoncé and Michael Jackson have been able to achieve. And now Burna Boy's done it."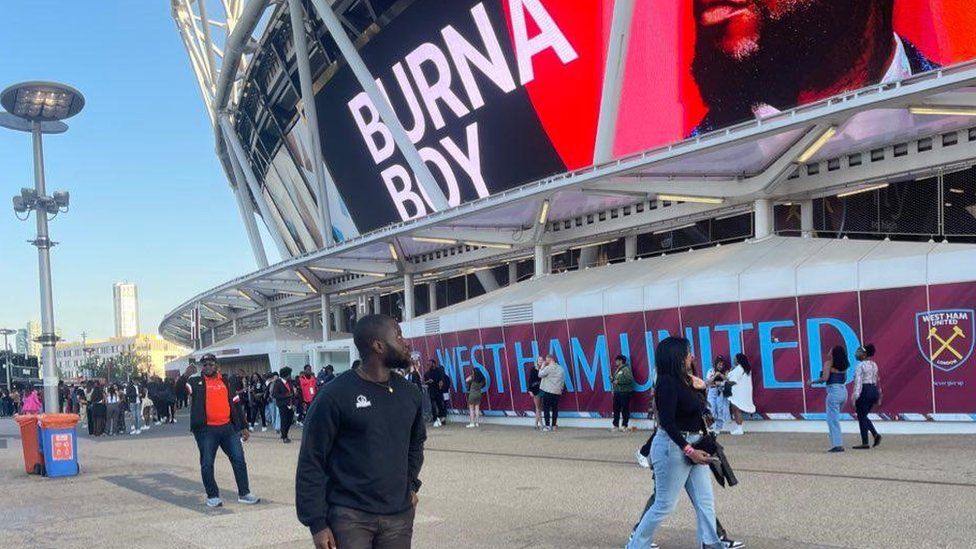 As well as Stormzy and Dave, Burna Boy also brought out big names like J Hus and Jamaican vocalist Popcaan as part of the star-studded gig.
But Kojo says the fact he had no warm-up acts shows how far Afrobeats has come.
"When you go for concerts, usually there's a co-headliner, Burna Boy and his band didn't need any of that," he says.
"To know he has that much star power is something we've never seen before in African music."
Someone else who was at the gig was Cata Hopkins – who was so excited that she was at the stadium for 10:00 GMT.
"It's so hard to even put it into words, the energy was just wild the whole entire day," she says.
"I met so many friends and other people that were there to have a good time and I think the best thing about the atmosphere was just how positive it was.
"Everyone was just happy and everybody was there feeding off the amazing energy that Burna and his band bring to the performance."
Selling out a UK stadium has been hailed as a massive moment for the genre, which has been appearing on charts across the world and taking over TikTok dance challenges.
It's also been embraced by some of the world's biggest stars – with Beyoncé and Drake featuring Afrobeats artists on their albums.
The Official Charts company has told Newsbeat that Afrobeats songs are now spending nearly 10 times as many weeks in the top 40 than they did two years ago.
Burna Boy's hit Last Last peaked at number four in the Official Singles Chart Top 40, while Rema's Calm Down – which features Selena Gomez – is currently number three.
Burna Boy's also dominated the Official UK Afrobeats Chart, which launched on BBC Radio 1Xtra in 2020.
And he's also taking Afrobeats to the football this weekend, when he performs at the Champions League final in Istanbul.
TBaze is an Afrobeats musician in the UK who feels inspired by Burna Boy's success and the rise of his sound.
"It's not even just about the artist, musicians or fans. It's for the people," he says.
"The crowd represents a diverse community and it's cross-cultural. We're learning about different cultures through this experience."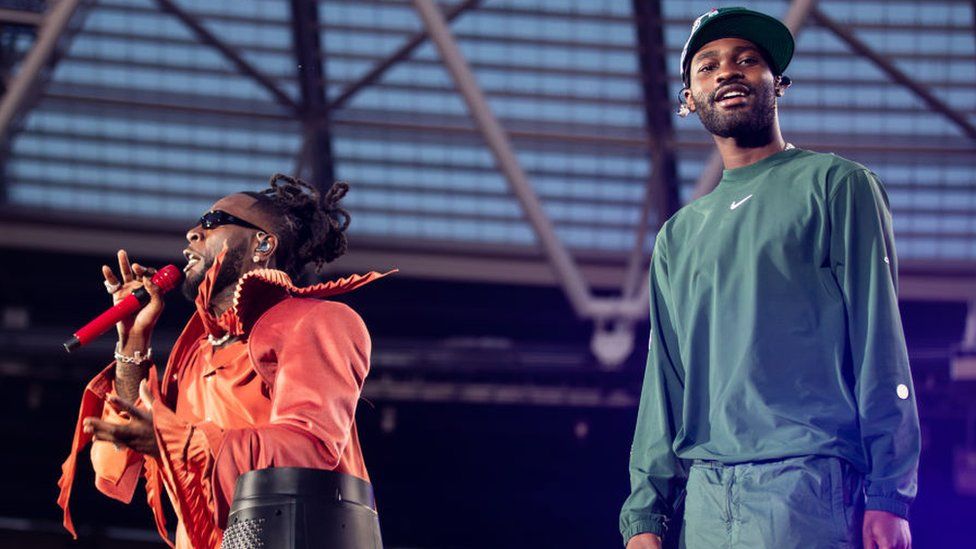 Looking ahead to the future of the genre, TBaze says the genre is growing because of social media.
"A lot of artists have to think about how the music relates to things like TikTok dance challenges. It could be Instagram reels or freestyle challenges.
"That accessibility is essential and I think about that when I'm writing a song.
"In future, I'd imagine people will be fusing Afrobeats into their genres even more."