Out of hundreds of eye creams, these are the ones that *actually* work
To use an eye cream, or not to use and eye cream? That is the question. Some say you could save money and faff by sticking to a swipe of your regular moisturiser. But advocates quite rightly argue that given the delicate skin around our eyes is between 10 and 40 percent thinner than the skin on the rest of our face, it's a good idea to choose a product developed with the specific needs of this area in mind.
Thick emollient face creams aren't blended for the fragile skin around our eyes. In fact, regular moisturiser can build-up and lead to even more puffiness. Fun (disgusting) fact: oculoplastic surgeons have reported finding excess eye creams inside eye bags during operations. So, while it's totally your call – a considered eye cream can be a wise investment, if you ask us.
If you do decide to incorporate an eye cream into your skincare regime, there's a wide variety of ingredients that can be called upon to tackle eye-related concerns. Countless studies have shown how effective retinol can be at smoothing fine lines and wrinkles. Vitamin C is a champion for brightening skin and lifting pigmentation. Hyaluronic acid is magic at hydrating tired eyes, vitamin E soothes, caffeine energises and ceramides plump. Even so, make sure the eye cream you choose is making realistic claims. No amount of eye cream can erase blue bags (which can be hereditary). Instead, look for light-reflecting and colour correcting properties, as they can help disguise them.
To help you pick the best eye cream to protect those precious lids, we've rounded up the best creams to smooth, soothe and brighten eye bags.
What are the best eye creams of 2020?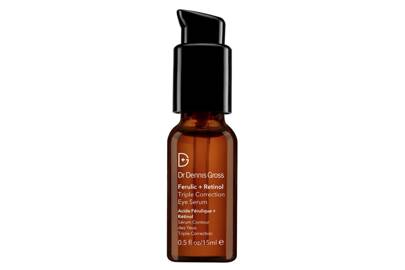 Best eye cream for fine lines
The gold standard in firming, Dr Dennis Gross Ferulic + Retinol Eye Serum is packed with wrinkle-smoothing retinol that work wonders on fine lines. BUY IT NOW