Rihanna reveals she's pregnant at Super Bowl halftime show
Rihanna delivered an electrifying and hit-heavy half-time show at Sunday's Super Bowl, but social media went into a meltdown when the singer revealed an unexpected special guest.
In an interview last week, the Bajan singer was asked if there would be any surprises during her performance at Arizona's State Farm Stadium.
"I'm thinking about bringing someone," she replied. "I'm not sure, we'll see."
Naturally, fans assumed she was talking about one of the many artists she's collaborated with during her illustrious career. A guest spot from Jay-Z, Drake or Eminem seemed both likely and in keeping with the half-time show tradition of surprise duets.
But Rihanna wasn't referring to any of them. Although nobody twigged at the time, she was in fact hinting that she was pregnant with her second child.
The singer may have failed to debut any new music during her performance at Sunday's Super Bowl, but the baby bump she debuted instead almost broke the internet.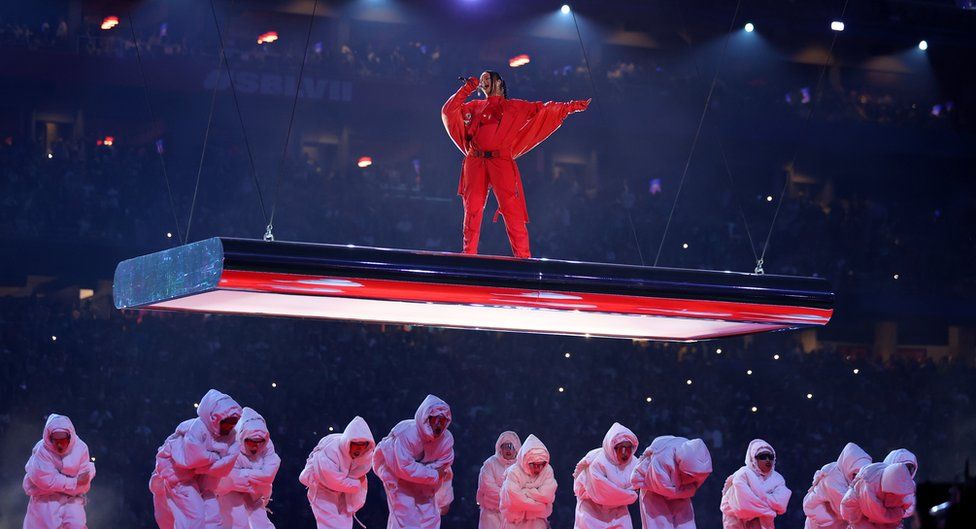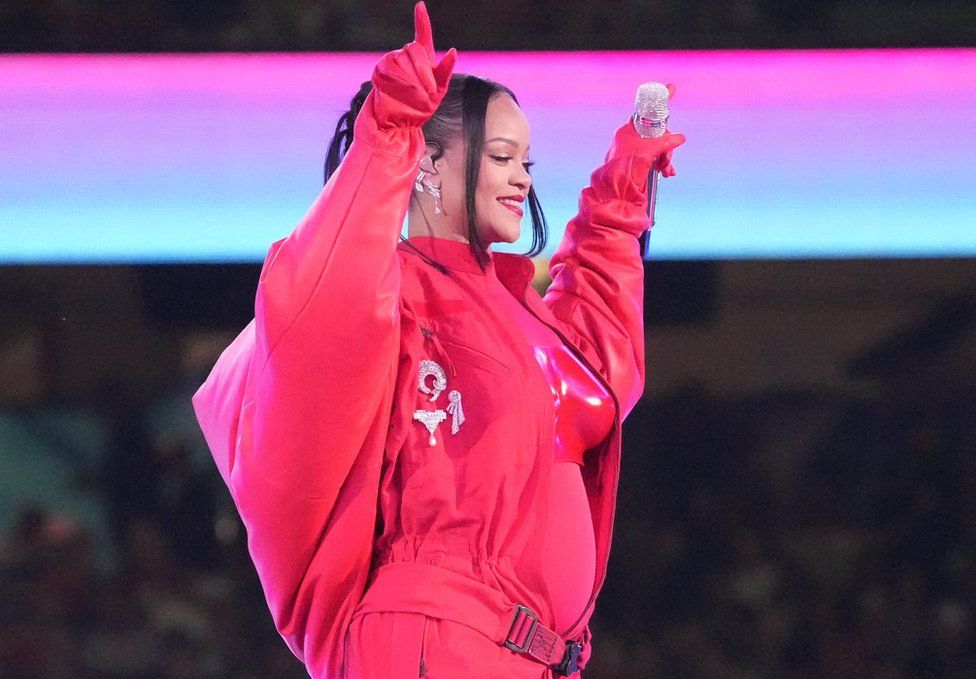 Wearing an all-red custom jumpsuit by Loewe, Rihanna appeared on one of several floating platforms which soared high above the crowd, as a swarm of energetic dancers, all dressed in white, gathered below.
The audience went wild as the singer launched straight into Better Have My Money – a somewhat ironic opener considering she is not being paid for her Super Bowl performance.
As the 34-year-old dazzled the crowd from on high, her dancers performed beneath her at breakneck speed, in a display of razor-sharp choreography which they would maintain throughout the whole performance.
The singer rattled through several recognisable hits, front-loading her set with some of her most danceable and up-tempo numbers including Only Girl (In The World) and the excellent Where Have You Been.
It was a half-time show not short on spectacle, even once she had been lowered to the ground. Fireworks were let off above the stadium as she launched into the euphoric We Found Love.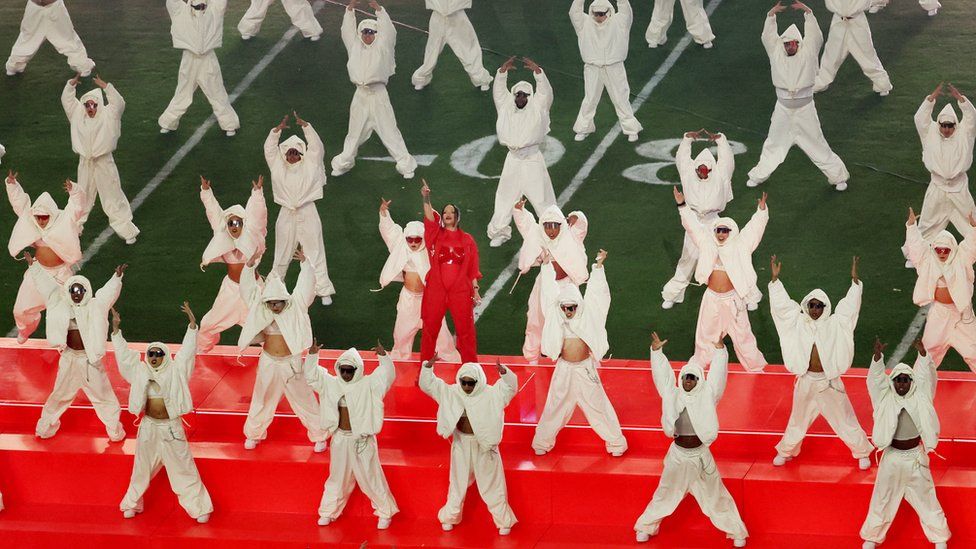 While rumours that the star might take the opportunity to perform new music failed to materialise, the decision to rely on her extensive back catalogue, one of the strongest in pop, was a sensible one.
The singer packed a huge number of hits into a tight 14-minute set, only performing the first verse or chorus of certain songs. But monster hits such as Rude Boy were balanced with the somewhat harder-edged and lesser-known Pour It Up.
Somewhat disappointingly, the set list took advantage of some of her best-known collaborations – without any of her collaborators actually joining her on stage.
As she performed Run This Town, All of the Lights and Wild Thoughts, there were no appearances from Jay-Z, Ye (formerly Kanye West) or DJ Khaled, who normally feature on those tracks.
But their absence didn't matter. By this point, everyone's attention was firmly on an entirely different, and very visible, special guest.


Which songs did Rihanna perform?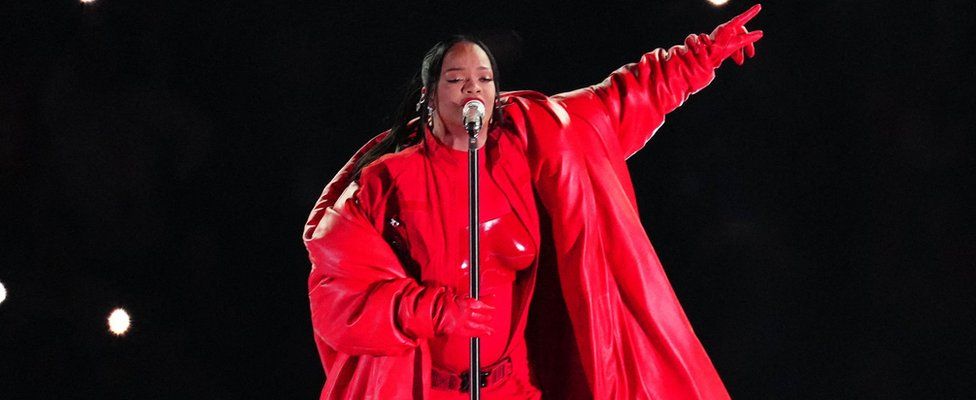 3. Only Girl (In The World)
8. Birthday Cake (instrumental) / Pour It Up
Confusion initially permeated social media as fans rushed to share their theories about Rihanna's apparent baby bump. Many pointed out the singer is known for her body positivity and could well have just been showing off her curvier figure following her previous pregnancy.
Although the star's bump was on display throughout, Rihanna did not draw attention to it quite as explicitly as Beyoncé did at the MTV VMAs in 2011, where she memorably dropped her microphone, unbuttoned her jacket and rubbed her belly.
But as Rihanna's set progressed on Sunday, viewers became increasingly confident she was pregnant again, nine months after she and her partner A$AP Rocky welcomed their son.
While some fans admitted to a tinge of disappointment that this will likely mean yet another delay to Rihanna's much-anticipated ninth studio album, the reaction on social media was overwhelmingly joyful.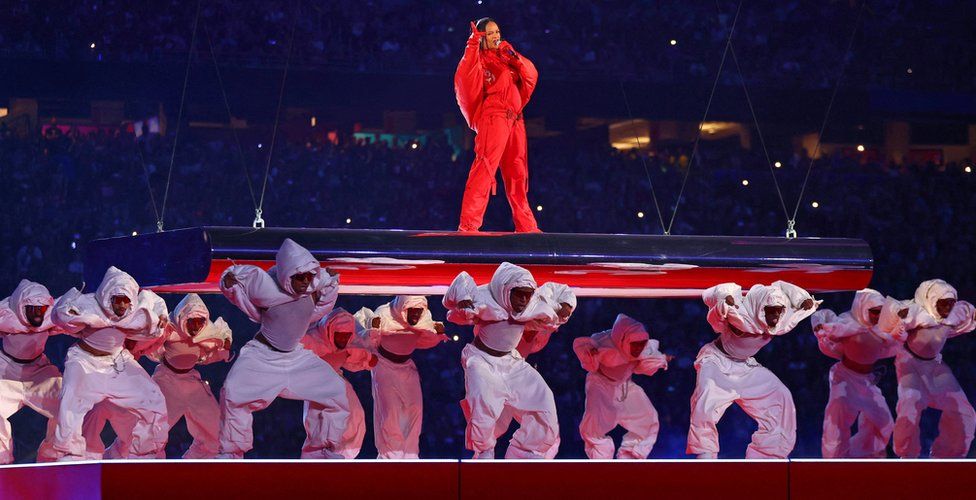 Elsewhere, there were no costume changes during Rihanna's set – quite understandably – and her band looked positively tiny compared with the number of dancers.
Unlike last year's half-time show, which saw Eminem take the knee on stage, Rihanna's set was distinctly light on political statements – something which may surprise those who remember why she previously turned down the Super Bowl.
The singer confirmed to Vogue in 2019 she had declined the invitation in solidarity with Colin Kaepernick, the quarterback who controversially knelt during the national anthem in protest against racism and police brutality. "I just couldn't be a sellout. I couldn't be an enabler," she said at the time.
Four years later, "taking the knee" is much more commonplace, particularly in light of the Black Lives Matter protests of 2020, and Rihanna's headlining of the Super Bowl is perhaps a sign of her approval of the NFL's progress in recent years.
Fans broadly agreed her performance was worth the wait, featuring a set list which she had joked earlier in the week had been through 39 drafts before it was finalised.
Meanwhile, the annual jokes about the culture clash between pop music fans and sports fans were in full swing on social media, with Rihanna even embracing them herself.
Ahead of the show, her clothing label manufactured T-shirts with the slogan: "Rihanna concert interrupted by a football game. Weird but whatever." Model Cara Delevingne was among the attendees sporting one on Sunday.
Rihanna's fans admit she doesn't necessarily have the best voice in music. It's more distinctive than it is powerful, the kind of voice you would recognise instantly as hers on the radio, even if it was an unfamiliar song.
But what has set Rihanna apart from some of her peers is the sheer number of hits she has to her name. In the late noughties and early 2010s, she churned out chart-toppers faster than the industry's top songwriters could compose them.
She released seven albums in as many years, scoring a new worldwide hit every few weeks. As a result, perhaps one inevitable disappointment with her Super Bowl set was the number of songs she simply couldn't squeeze in.
Some of her earlier smashes, such as Pon de Replay and SOS, would have gone down a treat, as would the pounding Don't Stop The Music and the catchy What's My Name (although we did get a tiny snippet of the latter right at the beginning, before she appeared on stage).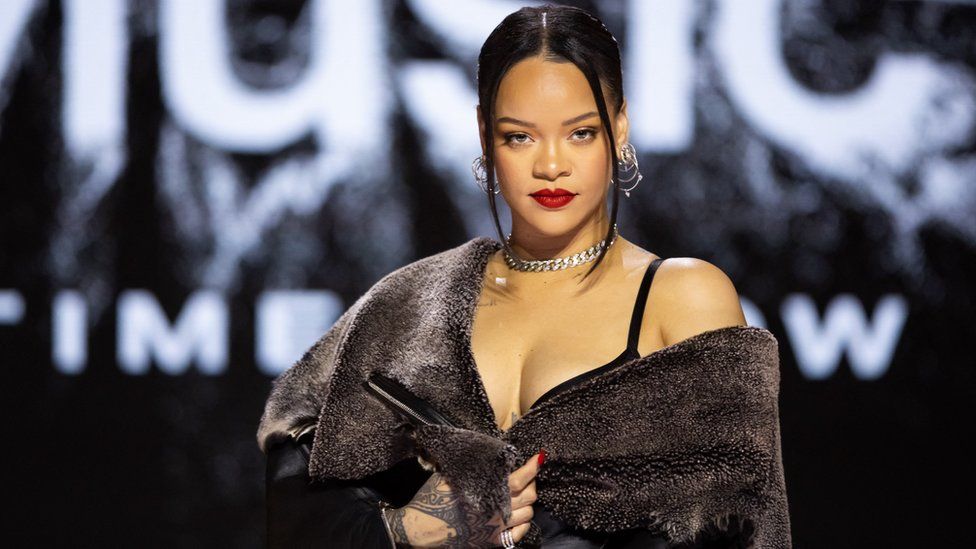 Other fan favourites, such as the rather graphic S&M, were probably wise to avoid, given the Super Bowl's history with pop stars offending family audiences during the half-time show.
However, the song wasn't missing entirely – its vocal hook was layered on top of We Found Love, while a few seconds of another risqué but popular track, Birthday Cake, were teased just before Pour It Up.
And surely everybody can be grateful that her set wasn't dragged down by her most recent release – Lift Me Up, from the soundtrack to Marvel's Wakanda Forever. A perfectly nice song which deserves its Oscar nomination, but one which would not have worked at the Super Bowl.
Instead, Rihanna deployed some her biggest hits as she hurtled towards the end of her set, climaxing with her ode to British weather, Umbrella, and the rousing, anthemic Diamonds.
It may not have grabbed the headlines for the reasons fans were expecting, but Rihanna delivered a half-time show they will never forget.