"We're tired of keeping carved woods, glasses and fabricated aluminum on our shelves" – Peter Sedufia to award organizers
Peter Sedufia has asked awards organizers to make their plaques more valuable to incentivize creatives to continue exceeding expectations and giving their all. According to the award-winning filmmaker and director, Ghanaian movie award schemes should emulate international best standards by making their trophies come paired with a cash prize; this will it exciting and worth the participation.
"It's high time movie award schemes in Ghana graduated from giving award winners just plaques to adding CASH prizes," He said in a Facebook post, "We're tired of keeping carved woods, glasses and fabricated aluminums on our shelves without a ripple effect on our bank accounts. In Africa, your success is measured by your bank account; not items you can't sell for money."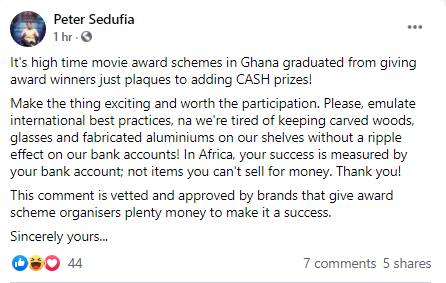 Peter Sedufia is a director and writer, known for Keteke (2017), Aloevera (2020) and Sidechic Gang (2018).
In April the electronic media reported that, the CEO of 3Music Awards, Sadiq Abu Abdulai, said his firm does not reward creatives with anything beyond plaques on an award night. According to the report, he revealed Awards and Plaques however stand the test of time; They are etched words inscribed to be personal testimonials of things accomplished.
He added that, Some of these plaques become the catalyst of legacies which is why they are so important.
Source: GbAfrica