Ghanaian movies that made their way to Netflix
Netflix, a global online film streaming platform has always supported quality and original content produced around the world by filmmakers and directors. Ghanaian movies are no different.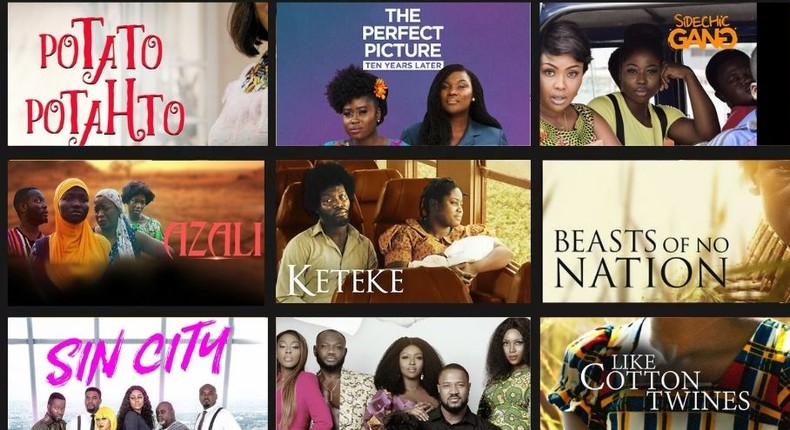 Ghanaian films are excellently created by producers and directors that are well sort after in the industry. Shirley Frimpong-Manso, Yvonne Nelson and Peter Sedufia, Leila Djansi, and others.
The streaming platform has over the years been building its Ghanaian collection, however, it's sad that very few Ghanaian movies have made it to the platform as compared to our sister African countries.
Internet users grew and the number of Netflix downloads surged beyond doubt due to the global pandemic that struck and compelled nations into lockdown.
It was indeed a good time to have your content on the movie streaming website, and more advantageous for the Ghanaian movies on Netflix.
Making the list of our binge-watch, here is a number of Ghanaian-produced movies that made their way to Netflix in no particular order.
Aloe Vera created a distinctive hue figure between two groups living within the same community but separated by a hem initiated by a long-standing historical dispute. love creeps but is it enough to transcend the line that separates them?
Cast: Nana Ama McBrown, Kofi Adjorlolo, Roselyn Ngisah, Priscilla Opoku Agyeman, Aaron Adatsi, Alexandra Ayirebi-Aquah, Benjamin Adaletey, Ngozi Viola Adikwu, Beverly Afaglo, Ben Affat, Fred Amugi, Kobina Amissah-Sam, Akorfa Ejeani Asiedu.
40 and Single look into the life of a bridal fashion designer as she struggles against prejudice in the city of Accra where race and colorism have significant colonial roots while pursuing her dreams, goal, and finding love.
Cast: Marie Humbert, Vanessa Williams, Adjetey Anang, Emefa Tsikata, Michelle Attoh, Rama Brew, Joselyn Dumas, John Dumelo
In an interesting drama, an expectant couple determined to give birth in a faraway town find themselves stranded after missing their train to get there.
Cast: Adjetey Anang, Lydia Forson, Fred Amugi, Jeneral Ntatia, Clemento Suarez, Joseph Otsiman
A divorced couple who were bent on flexing their egos and scoring points decide to cohabit in their ex-matrimonial home but realized that their scheme unravels emotions and inflames old wounds.
Cast: Joselyn Dumas, Chris Attoh, Nikki Samonas, Victoria Michaels, Adjetey Anang
The Perfect Picture: 10 Years Later
This is a drama sequel From Shirley Frimpong's Perfect Picture produced some decade ago, with a pinch of twist and intrigue. this sequel talks about three friends who are saddled with more issues in their not-so-fairy-tale relationships, flawed husbands to shaky finances, and romantic exploits that test a close circle of friends who must lean on one another.
Cast: Naa Ashorkor Doku-Mensah, Jackie Agyemang Appiah, Chris Attoh, Adjetey Anang, Lydia Forson, Beverlyn Naya, Richard Mofe Damijo, Gloria Osei Sarfo, KSM
Fate and faith determine the life story of three young ladies ix Us tells the story of three young ladies, bound by their common dream to be movie stars, and form a tight friendship soon after their dream is realized, they find out they want something more from life.
Cast: Yvonne Nelson, Yvonne Okoro, Irene Logan, David Prince Osei, Alexandra Amon, Jessica Williams, Michelle Attoh, Belinda Dzattah