The Sounds of Croydon: From Samuel Coleridge-Taylor to Stormzy Online Exhibition – 1st October – December 31st
The Sounds of Croydon: From Samue Coleridge-Taylor to Stormzy exhibition will take you on a musical journey following the stories of Croydon's most successful musicians. Croydon based organisation, PAST FUTURES is launching an online exhibition titled 'The Sounds of Croydon: From Samuel Coleridge-Taylor to Stormzy' on October 1st to mark the start of Black History Month in the UK. The exhibition led by Croydon resident and Head Curator Micha Nestor, will follow the journey of Croydon's most influential musicians, celebrating the history of Croydon's global influence on music over the last 120 years, from Samuel Coleridge-Taylor to Stormzy.
While society continues to contend with covid-19 and many cultural organisations remain offering a limited service, the Sounds of Croydon will provide an inclusive space online, allowing underrepresented people to interact with the arts, being educated and inspired by Croydon's musical past.
The Sounds of Croydon: From Samue Coleridge-Taylor to Stormzy exhibition will take you on a musical journey following the stories of Croydon's most successful musicians. Focusing on the years 1900-2020, the exhibitions Classical section will feature the National Portrait Gallery's oil painting of a six year old Coleridge-Taylor by Walter Wallis. This captivating portrait portraying the innocence of Samuel Coleridge-Taylor, painted by a member of the Croydon Arts Club, is somewhat overshadowed by the stereotypical emblems it contains. As was common for the time, Samuel was painted with the common appearance of a Moorish style hat. His sister, with him on the day of the painting recalled 'They put a basin on his head and a shawl round his shoulders so he looks a bit African'.
The Rave section of the exhibition highlights the impact of dubstep on the people of Croydon, taking you through a night of dubstep, thanks to photographer Ben Donoghue who shot this series of black and white images during his time as resident Croydub photographer at The Sheep; he perfectly captures this moment in music history.
Finally the Grime section follows the story of arguably the UK's most successful rapper to date, Stormzy. Growing up in the Borough, Stormzy has ensured he pays homage to his hometown, shooting music videos in Croydon and arranging mystery performances for his new albums at Croydon Boxpark. The exhibition will follow his journey from son – with a portrait taken by photographer Olivia Rose of Stormzy and his mum Abigail Owuo – to hero, ending with Mark Mattock's photograph which has hung in the National Portrait Gallery alongside pictures of kings and an image from his latest mu sic video Superheroes.
With heritage sites across the country continuing to struggle to close the gap when it comes to engaging underrepresented people (including the young, as well as black, asian and mixed race people) the Sounds of Croydon will showcase relatable images by local talent, including musicians and photographers; providing inspiration and guidance to those interested in getting involved with the arts.
By providing access to museum quality art – some of which has been exhibited in London's National Portrait Gallery – Past Futures hopes that this engaging and contemporary exhibition will lead to greater participation in local history by underrepresented people, leading to a more inclusive historical narrative being curated for future generations.
Music has played a central role in Croydon's identity, since the arrival of the Great Exhibition and the Crystal Palace Orchestra in 1856. Since then classical music composer Samuel Coleridge-Taylor, has left a mark on the world by writing one of the most successful songs of the late-Victorian era and even meeting President Roosevelt in the White House, during a time when segregation was still prevalent. The 2000s saw an explosion in Dubstep music, with Croydon based Producers Benga and Skream amongst many, paving the way for international DJ's such as Skrillex to take this genre of music to the top of the charts. Finally we'll follow the journey of Stormzy, from Thornton Heath schoolboy, to holding the country's leaders accountable on stage at the Brits.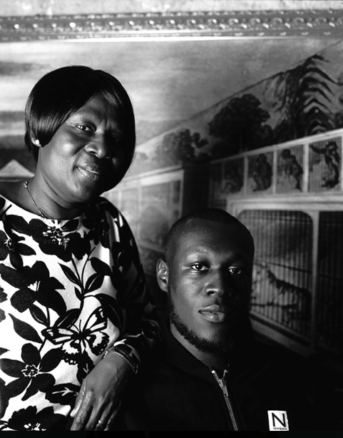 For the last twenty years especially, underrepresented people have asked for museums to produce content which reflects their lived experiences, veering away from the national curriculum's standard diet of the Tudors and Romans. We have no doubt that the likes of Coleridge-Taylor and Stormzy will live within the mythology of Croydon's local history for many years to come, with this exhibition going some way to educate viewers on the steps taken to create a musical legacy.
In just 15 minutes, explore and engage with the stories of Samuel Coleridge-Taylor the Victorian, mixed-race child prodigy from South Norwood and follow a night of Dubstep, as experienced at the Black Sheep's monthly CroyDub events. Finish things off with insight into Stormzy's latest Superheroes campaign.
About Past Futures and Head Curator, Micha Nestor
Curated by lifelong Croydon resident and Head Curator at Past Futures, Micha Nestor wanted to bring a burst of energy to the heritage world, during a time when many people remain disconnected from their favourite pastimes. Despite having a Masters in International Heritage Management from the University of Birmingham, the mixed-race mother of two, still struggled to gain unpaid volunteer experience at her local museum, turning to the diverse heritage consultancy to create a solution.
​Speaking about her inspiration for the exhibition, Micha said "Having grown up in South Norwood for half my life, I regularly drove past the Samuel Coleridge-Taylor youth centre and blue plaque commemorating the composer and wondered who he was. That sparked my curiosity, and I quickly became fascinated by the story of this mixed race, Victorian man who had conquered the classical music world and lived just down the road from me."
For the past five years Micha has worked to promote London's local history, often left forgotten. Co-hosting the Unarchived History podcast, which toured across London's suburbs, including Crystal Palace, Camden and Shoreditch; Micha founded Past Futures in 2018 with a mission to increase diversity within museums. The diverse heritage consultancy creates and curates innovative apps, podcasts and tours for the heritage sector aimed at attracting new and diverse audiences. Working with local authorities wishing to showcase their history, to national museums wanting to adopt innovative and inclusive exhibitions, Past Futures is working to make underrepresented people included in Britain's past.
Source: www.blackhistorymonth.org.uk